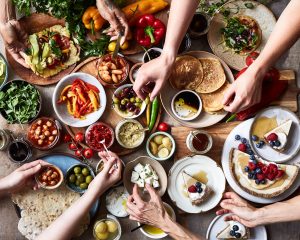 Do you eat Meze? Mediterranean meze, like Spanish tapas or Italian antipasti, is one of life's great pleasures. What's better than a table laden with roasted aubergines, braised vegetables and grilled cheeses or even a quick midweek version with a few olives or flatbreads dipped in olive oil alongside a glass of retsina wine.
We're often told that fresh or chilled meze is better quality. But Greek home kitchens are always stocked with good jars or tins of meze; they keep without refrigeration in hot summers and can be pulled out of the pantry whenever guests come round for an impromptu evening drink. Lots of meze like gigantes beans in tomato sauce or seafood salad are multi-use and can be eaten hot or cold. You can save money and stock up on convenience with jarred olives; they're exactly the same product as chilled olives, just with a different marinade.
Research from Nectar reveals that shopper's priorities when perusing the aisles include price (68%), quality (57%) and how long food will last (51%) (Nectar, March 2022). Luckily our meze delivers on all this and more. Delicious, convenient and perfect for sharing, let's explore some of the fundamentals of true Mediterranean meze:
How to pronounce meze?
Let's get this straight first. Meze is pronounced meh-ZEH. If you're hungry (and we always are) the plural is mezéthes, and is pronounced meh-ZEH-thes.
 Meze or mezze?
It's up to you. Meze with one 'z' is more commonly used in Greece and 'mezze' in Turkey, but many Mediteraneans use the words interchangeably. They mean the same thing, and they're both delicious.
 How to eat meze
The most important ingredient in a meze feast is other people. It's all about bringing people together and sharing a range of small plates and sharing dishes with different colours, textures and flavours.
Traditionally served in a mezedopolio restaurant in Greece, mezéthes compliment a bracing shot of ouzo or tsipouro liquor. Like tapas or antipasti, they are always served with a drink and are a backdrop to family and friends getting together. There should be as much conversation and laughter as there are dishes on the table.
You can eat a couple of mezéthes as a starter or appetiser, but they traditionally make up a long meal in themselves, like dim sum. There are hot, cold, spicy and savoury dishes, and everyone takes a little of what they fancy. If you're serving a meze feast, ensure you have small plates for guests and plenty of napkins. Go for dishes that are handheld or easy to eat, so guests can drink, eat and chat at the same time.
How to build the perfect meze
Include a range of colours, textures and flavours for a true meze experience. Put bright red pepper htipiti dip alongside white pitta bread, and have a colourful platter of vegetables with grilled manouri cheese, and spiced prawn saganaki alongside salty olives.
When it comes to entertaining, convenience is key. Research shows that 56% of UK home cooks want easy and quick to prepare meals (Mintel, January 2022). Meze is perfect for this, as all our products are ready to serve. They're also multi-use; you can eat them straight from a bowl (or even the jar!), and they make a satisfying, quick meal too.
Better for you and the planet
Whilst feeling like a luxury, meze are often a very economical way to eat. Whilst fresh meze has a limited shelf life the minute you buy it, ambient meze items can be kept for months. This reduces food waste, is more cost effective, and ensures you only buy what you're going to eat. Jarred and tinned meze are also convenient on the go; throw them in a picnic bag without fear of leaks and they come in plastic-free glass containers too.
Top 5 essential meze
If you're curious about bringing this relaxed, Mediterranean way of eating into your everyday life, here are our top 5 ingredients you need to try.
If you're looking for the authentic taste of  a Mediterranean feast, our Greek meze hamper includes everything but the party, with meze dips, olives, beans and stuffed vine leaves for sharing.
For a mini vegan meze on the go, try our Karyatis Mediterranean Vegan Snack Box including marinated green olives, houmous and a roasted red pepper dip with rosemary crackers, and fig and raisin baklava.
5 Greek meze recipes
All our products are ready to serve, but if you're feeling creative they make delicious meze recipes too: